Thailand, for many years, has been a major force in the international gems and jewelry industry. The sector contributes significantly to the kingdom's economy, and the expertise of Thai gemstone cutters and polishers have always been held in high esteem. Thailand's success in the gemstone industry is also tied to its commitment to quality, service, and innovation.
The Premier stands out as one of Thailand's pioneers in the diamond, gems, and jewelry trade. Our heritage can be traced back for over a century, to 1905, with the establishment of Bay Chin Teck Company Limited. Starting out as a diamond and gold jewelry shop in Bangkok's Chinatown district, our family-run business prospered and expanded through the decades with much success owing to the vision and astute management of Mr. Vichit Durongkapitaya, the founder and the late president of The Premier Group.
Mr. Vichit Durongkapitaya was well respected in the community for his kindness and compassion, while his vision, passion, and dedication for his work has positioned The Premier as a reliable source for valuable gemstones, diamond, and jewelry manufacturing. His contributions in creating a hub for the trade and introducing diamond cutting to Thailand have further landmarked Thailand as the center of gems and jewelries. Our founder's tradition of honesty and integrity are passed down through generations – all the while continuously innovating to make certain The Premier remains a global success.
1905
Bay Chin Teck Co., Ltd. first opened its doors as a small gold and silver jewelry shop in the heart of Bangkok's Chinatown. Over the decades, it gradually developed an impeccable reputation in the local retail jewelry business.
1955
Bay Chin Teck Co., Ltd. started a diamond trading division by importing polished diamonds for distribution in the local market.
1958
Bay Chin Teck Co., Ltd. became one of the pioneers in the trading of Burmese rubies.
1961
Bay Chin Teck Co., Ltd. started a jewelry manufacturing and wholesale division to supply to the local retail shops.
1966
Bay Chin Teck Co., Ltd. started a joint venture with a local partner to develop the Siamese ruby and Australian sapphire market.
1982
Premier Gems Trading Co., Ltd. was specifically set up to focus on the booming export market, concentrating on the export and wholesale of precious stones with a focus on rubies and sapphires.
1983
Premier Diamond Cutting Ltd. was established as the company's first solo effort in diamond polishing with the blessing of Thailand Board of Investment (B.O.I.). The company offered polished diamonds for export and wholesale.
1984
Premier Jewelry (MFG) Co., Ltd., another B.O.I. promoted company, was founded as a manufacturer of gold jewelry set with diamonds and colored stones for export.
1997
The sales and administrative divisions of Premier Gems, Premier Diamond and Premier Jewelry were moved under one roof to the new Premier Group Headquarters at Gems Tower.
2000
Launched De Preco, a brand of quality diamond jewelry in retail outlets at leading department stores in Thailand.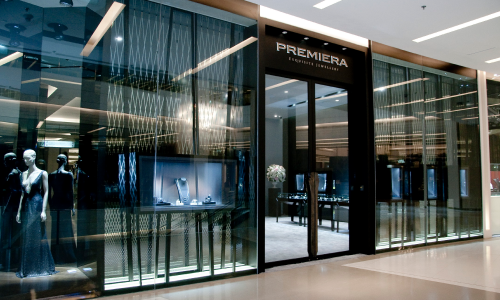 2012
Opening of Premiera Exquisite Jewellery, a top-class diamond and precious gemstone jewelry brand, solely distributed at Siam Paragon, a famous world-class shopping complex in Bangkok, Thailand.